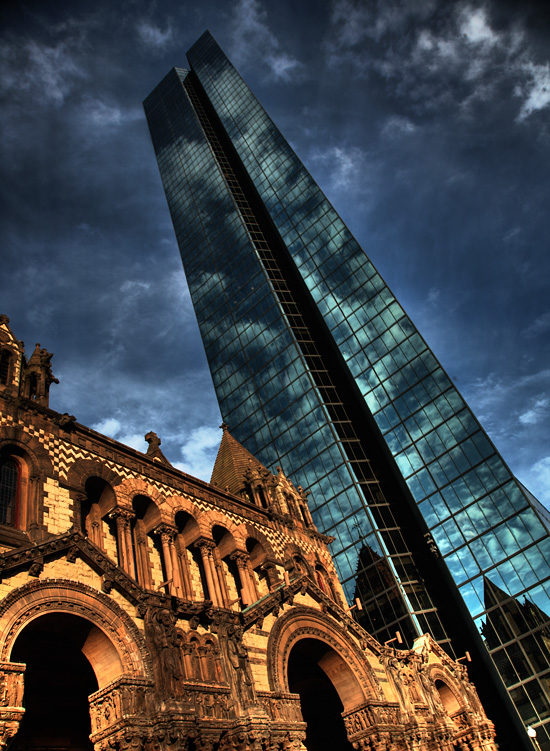 14 July 2008 | 6:51 pm
Trinity Church & John Hancock Tower, Copley Square, Boston
Thanks for commenting on imagi on my architectural shot. I have to say, this is one top image to see immediately on your website. Dramatic colour, perspective and composition. Powerful stuff! You must be pleased?
Matt Stokes
on 17 Jul 2008
I like the composition, but it looks a tad overprocessed. I think scaling back some of the processing might actually make this image pop out more.
Abhi
on 19 Jul 2008
Super perspective - been on the top floor of the John Hancock Tower, so its nice to have another look from the "bottom".
Preben Carlsen
on 30 Jul 2008
Gorgeously reflected!
Evi
on 03 Aug 2008
WOWO, GRAT PHOTO MAN, IS AN HDR, RIGHT¡
jc on 13 Aug 2008
Yes, an impressive image indeed. Good use of HDR (I suppose).
ApoChromatic
on 26 Sep 2008
Really nice work the color processing here is just amazing, and I also like the old building as a contrast to the new!
Claus Petersen
on 24 Oct 2008
Magical image. Fantastic HDR work
Brian
on 26 Oct 2008
Awesome shot!!! Great mixture of ancient and futuristic buildings.
yungyaw
on 11 Nov 2008
That is the best architectural shot I have ever seen of these two buildings - I'm totally stealing it!!
Kirsti on 15 Apr 2010
Camera: Canon EOS 5D
Shutter speed: 0 sec
Aperture: f/11.3
Focal length: 24 mm
ISO: 100


I bought my camera (Canon EOS 5D) and lens (Canon 24-105mm f/4L IS) on the official Canon Outlet on eBay.